Phongsaly
In 2003, I trekked in the highlands of Phongsaly, the Northernmost province of Laos. The leather work shoes I'd bought in Hong Kong for my six-month stint working in Shanghai didn't serve me well. Greatly amusing my fellow trekkers, I slipped and fell on my arse multiple times while descending muddy jungle paths. Referring to my shoes, 38-year-old Frenchman Pierre asked, "Are you trying to be, how do you say? Elegant?"
"No, can't get hiking shoes my size in Asia."
The first night, we stayed at a Hmong village. Many kids there wore identical t-shirts with 'sweetheart' across the front – no doubt donated by an NGO. They all wanted to have their picture taken. The experienced Pierre, who ran a trekking company in Kunming, warned me to be careful with my non-digital camera, "These kids might not understand why you can't show them the photos right away and get angry." In 2003, the sale of digital cameras surpassed that of film cameras for the first time. I was not up with the trend.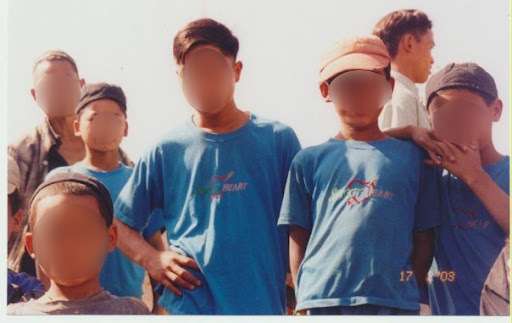 On the second evening, we slept in an Arka village. They seemed wilder than the Hmong. The men had teeth stained by blood-coloured liquid. This freaked me out, I didn't know chewing betelnut with slaked lime produced this red juice and thought the men had some horrible gum disease. The Arka village headman put us in a hut where the five of us slept on a mat the size of one double bed. Our guide was a teenage Hmong – a character who I'm sure has gone far in life in the last 20 years. I noted he didn't look as comfortable as he had in the Hmong village. Were Arkas and Hmong traditionally enemies? Aside from Pierre, who was 38, our group included a 26-year-old Australian weed smoker and a 34-year-old American with dickie knees. At 24, I was the youngest.
We returned to the capital of Phongsaly by riverboat and then a winding road. At the guesthouse, we ate buffalo meat and drank baijiu, a Chinese spirit that most Westerners find disgusting but does the trick if you want to get drunk. The next day, Pierre and I got a songthaew south towards Muang Boun Tai. In Laos, a songthaew is a converted mini-truck with parallel benches for passengers on the back. The road was bumpy as hell, and Pierre, suffering more than me from the Baijiu, spent most of the trip puking off the back of the songthaew.
Opium
At the Arka village, an old and wizened man had started smoking opium inside the hut we were going to sleep in. The Australian sat near him hoping to get offered a puff. No doubt a regular user, I'd guess the old man suffered from constipation. All opiates have this effect. I had the same problem on the trek, because apart from fish, sticky rice was all we ate. Constipation was a new experience for me then – ah youth!
Opium is a cash crop for the Arka and during the hike, we saw areas in the hills burnt black and a few singed opium plants still standing. I assume setting fire to the plants was the work of the Lao authorities. I'd already smoked opium about three or four times in Shanghai in the second half of 2002. In those days, Urghur men would whisper 'hashish' to foreigners passing them on the street in China's big cities. The owner of the bar I drank at in Shanghai discovered one of these Uyghur gentlemen who had opium too. Urghurs are racially Turkic Muslims from Xinjiang Province in Western China. Unless you've been hiding under a rock you know the Chinese government has been committing genocide against them since 2014. A genocide by incarceration and suppression of religious practices rather than by mass murder.
In Shanghai, we either locked the door of the bar and smoked the opium there or retired to the nearby apartment of an American friend. We used a short metal pipe – whereas the Arka man had that long opium pipe you see in the movies. Like hashish, opium was black and sticky but without the pungent smell. Its sweetness came through when smoking it, and after I lost track of time as my thoughts wandered. The most famous description of this kind of opium reverie is in Thomas de Quincy's 'Confessions of an English Opium Eater.' I don't recommend the book, De Quincy has the tendency to ramble on in archaic prose.
What about opium on the screen? The one that springs to mind first is the 2002 movie version of Graham Greene's 'The Quiet American.' Here the ultimate festish for the older European man in Asia are played out in scenes where Fowler, played by Michael Cane, has his nightly pipe prepared by the beautiful twenty-year-old Vietnamese girl Phoung. Sergio Leone's four-hour epic movie 'Once Upon a Time in America,' features an opium scene I've held dear for many years because it shows the potential of this drug to release tortured souls. In New York in the 1930s, Noodles, a gangster played by Robert de Niro, goes to an opium den to numb himself after finding out that his friends are dead. After smoking the pipe set up for him by the Chinese proprietor, Noodles forgets his troubles, lies back, and a beatific grin spreads across his face. Ennio Morricone's heart-wrenching theme music plays in the background. Watching this scene on YouTube now, a couple of things bug me. The Chinese opium den is reached through the side door of a theatre. When Noodles the theatre we get a glimpse of a shadow puppets show. The Chinese do have shadow puppets – but the puppets in the movie are distinctly Indonesian. Although the movie is set in the 1930s, the proprietor of the den is dressed in a pre-1911 Qing dynasty style robe and cap. He has a long plait of hair – the queue that the Manchu emperors insisted Chinese men wear. I don't think a 1930s opium den owner would be dressed like this. The Netflix series Peaky Blinders also features a 1930s opium den, this time in Birmingham England. They did a better job of the den owner's wardrobe: he's dressed in baggy trousers and a Chinese-style jacket with 'frog' buttons of knotted cord.
Luang Prabang
Pierre headed for the Thai border, and I continued south to Luang Prabang where I made friends with the two guys in my dorm room: a 29-year-old Aussie named Ben and an American in his 30s. We rented bikes and checked out the temples Luang Prabang is famous for. In the evening, Ben and I decided to go out drinking. On the street, we asked a young English woman if she knew where a certain riverside bar was.
"I don't know, don't you have a Lonely Planet?"
Lonely Planet guidebooks were de rigueur for backpackers then. I can understand the woman's attitude. It's like now at work when people ask me questions and I want to say, "Can't you Google it?" But with Lonely Planet being such a ubiquitous guide backpackers went to the same places and attractions that didn't get a good write up never stood a chance. I chose to rebel against this tyranny and In 2004 arrived in Europe with a policy of travelling without a Lonely Planet or a camera. I'm sure I missed out on many things in places like Sofia in Bulgaria with its unintelligible cyrillic alphabet because of my dumb policy. By contrast, for my 2023 trip to Southeast Asia, I had every day roughly planned out well in advance. Recently, a friend told me it's sometimes better not to plan a trip because then you'll have a more authentic experience. I couldn't come up with a better response than, "It all depends…"
Around 10 p.m., I left Ben at a bar because I had an inkling things were about to go pear-shaped. The gate at the hostel was closed but I managed to jump over the wall and get into the dorm. Ben didn't show up that night. The next day, the owner of the hostel told me he was at the police station. The American on hearing this news said Ben was an idiot. More sympathetic, I biked to the station. The police said Ben had been released. Back at the hostel, I found him in bed hungover. His recollection of events was blurry – and although I have a good memory, trying to recall the details twenty years later isn't easy. On finding the gate of the hostel closed Ben had elected to sleep in a park rather than jump the garden wall like I had. He woke up in the park with somebody going through his pockets. He got up and grabbed the person by the shirt. But this young local was not alone. Ben let him go and found himself in a face-off with two young Laotians. An older man pulled up on his motorbike and offered Ben a ride. He thought this man was going to help him (how I don't know). The man took Ben straight to the police. The police kept him in a cell overnight. In the morning he paid a USD 100 'fine' for assaulting the young man in the park. Interestingly, Ben communicated with the police in Chinese. He taught English in Taiwan for five years. He was a loose cannon and more extraverted than me so an ideal travel companion.
Vientiane and Nong Kai
Ben and I moved on to Vientiane, Laos's capital. There, he said hi to some Thai/Laotians – two sisters and their brother – sitting at a roadside restaurant and we ended up drinking with them. We communicated in Chinese. They limited English and we had only a few phrases in Thai and Lao. The brother and the older sister had studied in China. The non-Chinese-speaking younger sister seemed interested in me even though we couldn't communicate directly. The two sisters gave me a ride back to our hostel (what had happened to Ben, I don't remember). I went to kiss the younger sister but she looked unsure. Older sister said "nidnoi" to her, meaning, in this context, give him a little bit, and I got a short pash.
The sisters invited me to their house over the border in Nong Khai, Thailand. I accepted. The three of us got on one motorbike and visited Sala Keoku, a religious-themed sculpture park featuring giant figures made of concrete. Their creator was Luang Pu Bunleua Sulilat, a Thai/Lao spiritual cult leader and sculpture artist. The park probably featured in the Lonely Planet of the day but I felt like I'd stumbled on something damn interesting. Older sister tried to explain the meanings of various statues to me in Chinese – but this was beyond my level.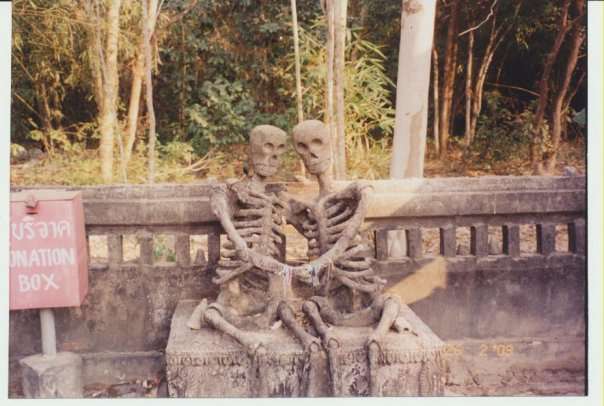 I have included three pictures I took at the sculpture park. The two skeletons holding each are part of a series of statues showing the karmic cycle. Two lovers who died in each other's arms? Or a representation of the sin of lust?
The snakes and the Buddha had me stumped. Even in 2023, I found the statues of headless Buddhas backed by snake heads at Angkor Wat incomprehensible. But then I found an explanation in an old-school guidebook: The Buddha was deep in meditation under the Bodhi tree when torrential rain began falling. Macalina, the king of the naga serpents, used his multiple heads to make a hood for the Buddha. He also raised Buddha off the wet ground using his scaly coils.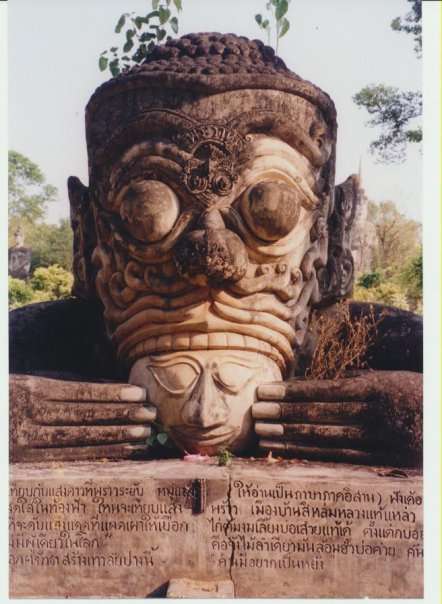 The head with another head in its mouth, I can't explain. The Thai sentences on the base in my photo are cut off, and I haven't found any photos online with the text clear enough for Google Translate to work. Let it remain a mystery.
Bangkok
With older sister, I took an overnight bus to Bangkok. Younger sister would join us at a later date. They had begun making arrangements for me and I was already thinking how I could get away from them. On the journey, older sister started telling me about her ex-boyfriend in Kunming, China who was a heroin addict. I struggled to follow the story and she got frustrated with my inadequate Chinese and went to sleep. In Bangkok, she took me to her cousin's house. I hadn't got much sleep on the bus and was happy when she led me to a bedroom with a very comfy bed. Older sister took off while I slept to conduct business elsewhere. She left me a note in Chinese written in the Roman alphabet (but not in the standardised way i.e. pinyin). She'd done this because she knew I couldn't read Chinese characters. The note was largely indecipherable. However, I got the message that I should stay at this cousin's house and in due time the two sisters would turn up. Sometimes in Asia, people wonder why you're wandering aimlessly and then come up with a plan for you…without asking what you think about said plan.
The cousin, a woman in her 30s, brought delicious rice and chicken dishes to my bedroom. Dressed in her nightgown, she seemed unaware of her attractiveness. She didn't speak a word of English. I stayed in my room, that's my introverted reaction to a strange environment. But one afternoon, I found myself in the courtyard with the family. An uncle had been summoned who spoke some English. "You marry our cousin when she come?" he asked. The cousin in this case was younger sister. The next morning I told the nice lady who'd made me food that I was leaving. She looked sad and I felt guilty. Should I leave some money? I didn't…it may have been an insult. It felt like forever but I'd stayed there two nights.
In a low mood, I arranged to meet Ben at Gulliver's Travellers Tavern, a famous pub at one end of Khaosan Road. Now closed, it was a great place to meet people. While I waited for Ben, a reasonably attractive British girl approached me at the bar but I couldn't summon an enthusiastic manner to entertain her. Ben arrived and told her we planned to visit Soi Cowboy – a go-go bar street – and she left us, rather disgusted. I saw her several nights later at Gulliver's pashing a strapping young backpacker.
On Soi Cowboy, we toured the bars. One place topped the rest. The girls dancing on stage would come and sit on your lap topless without asking for lady drinks. When I got drunk enough, I bar-fined the girl who'd been the most aggressive in grabbing my crotch rather than the one I liked. As the three of us walked out of the bar, Ben said to me, "Oh boy you're in trouble." It didn't amuse the bar girl that I was staying at a cheap hotel on Farway Khaosan. The next morning after she left, I felt hungover and guilty. I'd done some cool stuff in Laos, but now I was back to desultory habits in Bangkok.
Retreat
Ben too felt partying in Bangkok wasn't good for him, and he had a good idea to get us out of the rut: a Buddhist retreat two hours north of Bangkok. After we got off the bus at a town near the retreat, our next step in getting there was unclear. A tall, good-looking woman in her twenties who'd been on the bus said she could take us to the retreat. Ben, of course, was the one who'd engaged her in conversation. First, she needed to go to her house nearby. There, we had tea with her mother. Large formal family portraits decorated the walls. I've seen this many times in Asia…it looks weird to the European eye as we usually have small family pictures on the mantelpiece or bookshelf, not faces covering half the wall. The woman then drove us to a big house she was going to turn into a hostel. I guess she thought we as backpackers might have some good advice. As for personal information, I remember she told us her father was a big wheel in road construction and she'd been studying in America for the past four years.
Ben too felt partying in Bangkok wasn't good for him, and he had a good idea to get us out of the rut: a Buddhist retreat two hours north of Bangkok. After we got off the bus at a town near the retreat, our next step in getting there was unclear. A tall, good-looking woman in her twenties who'd been on the bus said she could take us to the retreat. Ben, of course, was the one who'd engaged her in conversation. First, she needed to go to her house nearby. There, we had tea with her mother. Large formal family portraits decorated the walls. I've seen this many times in Asia…it looks weird to the European eye as we usually have small family pictures on the mantelpiece or bookshelf, not faces covering half the wall. The woman then drove us to a big house she was going to turn into a hostel. I guess she thought we as backpackers might have some good advice. As for personal information, I remember she told us her father was a big wheel in road construction and she'd been studying in America for the past four years.
At the retreat, they put us in a house with two German guys pushing 40 and a nutty young Thai monk – he would get up in the middle of the night and start muttering and stomping. We got up at four to do meditation practice. Even at 24, I struggled to sit cross-legged for an hour-long session and was allowed to use a chair. Since then I've worked on my flexibility. I don't think it's got worse but it hasn't got much better. A middle-aged Thai monk led the meditation, with an Austrian nun as his translator. After meditation we'd go with the monks to the market carrying big metal bowls. The vendors would give us food for free. Back at the retreat, we'd eat the one big meal of the day around 10 a.m. Supposedly the focus was counting your number of chews but I concentrated on eating as much as possible. I didn't want to be hungry later. If I did get hungry, there was Ovaltine I could drink…it didn't count as food. The serious Austrian nun got upset about me drinking so much of it. However, she lightened up when I gave a 1000 baht donation on leaving. After the meal, there was an hour of walking meditation, and then we went back to the house for private meditation practice – or a nap in my case. In the evening, there was another guided meditation practice. There was some fun too, we went for a hike through the jungle and swam in a waterhole, where a scandal happened as one of the German guys grabbed a British woman by the breast.
The group retreat came to an end. You could then start a multi-day, vow of silence, solo meditation. I wasn't up for it and hitched a ride with a minivan of young monks back to Bangkok. We stopped at a petrol station and the monks went in to get sugary drinks of all kinds – for free. They were happy to share these with me. Just kids, sent by their families to be monks for a few years (or life?), not everybody had to be as serious as the Austrian nun. We arrived at a temple outside Bangkok, and I got a canal boat back to Khaosan. My next plan was to travel south to Malaysia by bus.
Journey South to Malaysia
For the entire bus trip to Phuket, all the seats were full and I stood in the aisle. The woman – or ladyboy, I wasn't sure – who collected ticket money looked at me after a couple of hours and said "Good, good." She was impressed that a foreigner could stand on a bus without complaining. This gives you an insight into how Thais see us. I stayed in a hotel in Patong run by a Danish guy who told me as a young sailor he had visited New Zealand. I went out drinking and at one stage started talking to some freelance women of the night. A passing Englishmen said to me, "Don't get caught mate, come with us." I happily went for a drink with him and his mates. Sometimes taking a prostitute back to your hotel is more about loneliness than lust.
As I got further south, the scenes out the bus windows changed. Instead of Buddhist temples and people in 'normal' clothes, I saw mosques and men dressed in white with 'taqiyah' or skull caps on their heads. In Narathiwat – capital of Narathiwat Province – I walked around the biggest mosque in town. The faithful leaving after prayer revved their motorbikes aggressively as they passed me – a hostile atmosphere. Significant anti-government activity by Muslim separatists in Southern Thailand had begun in 2001. Things would really kick off in 2004 when Thai security forces stormed a mosque and killed over 100 militants.
The border crossing into Malaysia didn't feel any friendlier. Not far from the border, Kota Baru was a very Muslim town. Men and women sat on opposite sides of the town square. It seemed poor too, I took a rickshaw to the beach and the driver looked starving. After walking a good distance down the deserted beach, I felt faint from the heat. I didn't have any water. I saw a coconut on the sand and broke it open with a rock and drank the water inside. This was the highlight of my time in Malaysia. I had a few beers in the Chinese-run hotel – the only place in town to get beer – and the next morning crossed back into Thailand. I took a bus to Hat Yai and then a plane to Bangkok. One of the air hostesses on that domestic flight was a woman I'd taught English to in Auckland. She looked shocked to me. From Bangkok, I flew back to NZ. I'd made some decent money in Shanghai in six months but I arrived home with my credit card in the red.
Aftermath Back home
I got a job teaching English in downtown Auckland – those were readily available back then – and rented a tiny room in the house my friend had recently bought. Often after class, I'd drink at the Shakespeare Tavern with a couple of older guys who worked at the district court and, occasionally, I'd go to a backpacker bar called The Globe, the only place in town one could go alone and hope to talk to anybody. One night, drunk, I started to talk to some Asian girls in Chinese. They were Thai – and rather than being offended, they thought I was funny. I made a date with one of them. Not a great romantic, I arranged to meet her that weekend at the same place.
A hard worker, she did an office job during the day and waited tables at a Thai restaurant in the evenings. She was 26, I was 25. Her family lived two hours north of Bangkok. Her sister had studied in America.
"By any chance is your Dad a roading engineer or something?"
"Yes?"
"Does your Mum wear glasses?"
"Yeah, how do you know?"
"I think I've been to your house."
"What?"
"I was going to a Buddhist retreat near Khao Yai National Park. Your sister was on the same bus. She offered to take us to the retreat. But first, we stopped at your house for tea…I think I saw your picture on the wall in the lounge…you with your brother and sister?"
She got on the phone with her mother and confirmed her sister had brought two foreigners around earlier in the year. Now imagine the guy you met in a bar randomly has already met your Mum and sister in your home country…and he was on his way to do a Buddhist retreat at the local monastery! She'd liked me well enough to go on a date…but now she was really into me. I have to recognise this as great luck. She drove me back to my house and I invited her in. When she took her shirt off, I saw some sort of thermal bra compressing her chest. New Zealand must be freezing for Thais. Then all her clothes came off and I found out she had been blessed by the gods.
Once I went to her Thai restaurant and had a free meal. She lived in a large room above the restaurant – any room seemed large compared to the cupboard I lived in. A good Thai, she had a picture of the king on the wall. In the morning, I caught the ferry back to the city centre and saw dolphins in the harbour. Still, I couldn't break the low feeling I had. My life was going nowhere. I was in NZ but with the same job I'd had in China: teaching Chinese students who wanted to know how to pass tests. If I was going to that, I might as well be in China. A place both fascinating and frustrating where life was anything but tepid. A friend helped me out by recommending me for a job in Wuhan which paid in British pounds. I headed back to the Middle Kingdom, much to the disappointment of my parents. I told the girl I was going to Australia. A weird lie and a pointless one. After I'd left, she rang my flat and the guys told her I'd gone to China. She was a nice girl, who genuinely seemed to like me. She told me her last boyfriend – a Thai – hit her, so doubtless I was an improvement. She hinted at wanting to move in together. At 25 I was too immature to consider that. I wasn't quite comfortable having a Thai girlfriend in NZ. The odd look and the odd comment got to me. Hopefully times have changed and I have changed. At a fish and chips shop, the lady behind the counter was nice to her but looked at me like I was a dirty bastard taking advantage of this Asian woman. I felt offended. Surely this look should have been reserved for an older white man with a younger Asian woman?
On the ride in from the airport, Wuhan proved to be the least attractive Chinese city I'd seen and that's saying something. I stayed there for only ten months but saved enough money to travel to Europe, the USA, and South America. Learning Spanish and about South America became a nice counterweight to my experience in Asia. In 2019, a friend from my time in Wuhan speculated that the open sachets of mustard and tomato sauce I left in the kitchen cupboard of my apartment there fifteen years before had mutated and turned into Coronavirus.