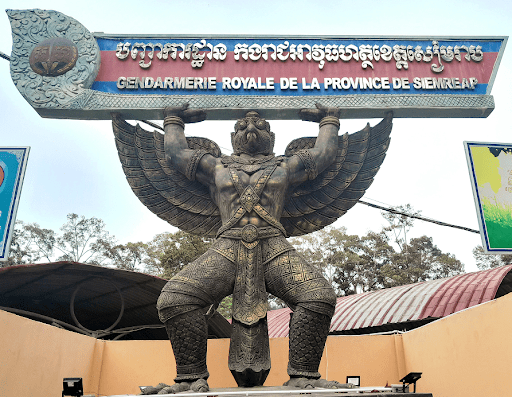 1 Siem Reap
The City
Once out of the airport, your first glimpses of a new country are precious. Hopefully, the sense of novelty causes a dopamine release. As you visit more countries more regularly, the buzz lessens. My first new country in years, I could feel the dopamine buzz in Siem Reap, Cambodia. According to the 'internet,' Brazilian Anderson Dias holds the record for visiting the world's 195 countries in the shortest time. It took him 543 days. He funded the trip through the support of his Instagram followers. How do you feel about that? Has Anderson had withdrawal symptoms since finishing this trip in which he experienced multiple new countries per day? Maybe he discusses this in one of his many YouTube videos. But probably not, as it'd be a downer that wouldn't help the continued success of his YouTube channel.
On the tuk-tuk ride from the airport into town, I took in the dusty reddish brown earth and faded blue skies. The only tall buildings were hotels with predictable names like Angkor Resort and Angkor Hotel. Motorbikes and the local version of the tuk-tuk – a motorbike with a trailer – far outnumbered cars. The hotel staff explained the ins and outs of touring the temples in the Angkor Archaeological Park. They were straight up about prices. The tuk-tuk driver they had sent to pick us up at the airport was available to take us out there the next day.
The gringo-fied Siem Reap proved easy to walk around and had plenty of markets and restaurants. The only thing I could find to complain about was the expensive 7-Eleven with a limited range of products. Many people don't like the city's 'Pub Street' with its tacky neon and badly behaved foreign tourists. However, people need somewhere to get drunk. We got a more local vibe by the river, where Khmers played badminton and kick volleyball. Less engaging than the Thais and without Vietnamese bullishness, the locals we interacted with spoke English and were polite and efficient at their jobs.
I bought a notebook with a durian on the cover and pages ruled up for the practice of Khmer calligraphy. I saw this notebook at the stationery shop on a street full of stationery shops. We didn't have small notes, so M said, "Wait for the market to buy it. They'll have plenty of that kind of stuff." But the night market sold nothing but fake brand-name stuff for gringos. We tried to find the stationary street again without success. I got grumpy…now obsessed with acquiring the notebook as a non-touristy souvenir. M searched online and found a stationery shop a short walk away…They had the durian notebook.
"Happy now?" M asked.
"Yes, very."
"Try not to get angry for nothing. I want you to use technology and be more modern." She had a point…save getting upset for something that merits it.

The Temples
I worried Angkor would be a tourist trap and that once you'd seen one temple you'd seen them all. This didn't turn out to be the case. Angkor Wat gets all the attention. It's on the Cambodian flag. Cambodian Bakeries in New Zealand have a picture of it on the wall or are named after it. A prominent art deco building in downtown Napier houses the Angkor Wat Kiwi Bakery & Cafe, an establishment famous for its pies. In guidebooks, Angkor Wat gets twice the number of pages and photos than any of the other temples in the Angkor Archaeological Park. I'm going to largely ignore Angkor Wat and focus on Baphuon and Preah Khan – two temples I enjoyed more than Angkor Wat.
We got to Angkor Wat before dawn. A crowd of tourists took pictures of the temple's silhouette against a pink sky. This was the only crowd we saw for the next two days. In the post-COVID low season of 2023, you could have many temples virtually to yourself. I'd dressed in a short-sleeved shirt, linen trousers, and Skechers shoes – way too heavy a get-up for the heat. I thought you had to cover your knees to go to the temples – but plenty of male tourists wore shorts. After Angkor Wat and Bayon, we visited Baphuon, which resembles a Mayan pyramid although not as strongly as a temple in Koh Ker, over 100 KM away, that M spotted on a postcard in a Siem Reap store. Obviously, ancient aliens brought their knowledge to both the Mayans and Khmers! Looking at the reviews of Baphuon on Google is like entering an alternative universe because many of them are well-written, informative, and positive. Climbing up the steep stairs to the top of Baphuon, I felt faint from the heat. I pointed out to M that the main tower was in the shape of a monkey. Looking at photos now, I can't see the monkey at all – the heat scrambled my brain. From the top of Baphuon, we had a panoramic view of Angkor Thom, the walled city and one-time capital of Cambodia. I couldn't stay there for more than two minutes because the sun beat directly down and radiated off the sandstone blocks around us. The path through the jungle around the back of Baphuon led us to the first public toilets of the day. I threw water all over myself to cool down.
On the second day, I felt much better, having gone with a T-shirt and shorts, and another T-shirt soaked with water draped around my neck. The fake Under Armour quick-dry polyester T-shirt I'd bought at the market the night before ended up giving me a rash but what do you expect for three bucks?
We only saw a couple of other tourists at Preah Khan, a large temple complex – virtually a city of its own. It has a lost-in-the-jungle feel because the World Monument Fund (WMF) has done a lot of restoration but intentionally left it as a partial ruin.
Preah Khan has excellent examples of the main motifs found in Khmer Temples. On the causeway leading to the eastern entrance, stone devata defenders and asura demons engage in a tug of war pulling a naga serpent god that represents the link between heaven and earth. The same as at Angkor Wat, many freezes feature beautiful female dancers. These apsaras are naked from the waist up and have ample breasts. Dancing was central to court rituals under Jayavarman VII, the king who built Preah Khan in the 12th century. Up to a thousand dancers performed at festivals. Were they in a state of undress as displayed on the stone freezes? It's hard to imagine such a sensual scene for the straight-laced 21st-century mind. Preah Khan's most impressive feature is the 72 stone garudas – creatures with the body of a strong man and the head of a bird – spaced at regular intervals around its outer walls. In 1996 the WMF launched the Save a Garuda program where you could sponsor the restoration of one of these. The price tag for the complete restoration of one garuda was 25,000 USD. This included X-ray, 3D imaging, and waterproofing.
On the list of donors, I noticed the Henry Luce Foundation. I recognised the name because the foundation also sponsored an online magazine, the Los Angeles Review of Books, in which I published some articles. Henry Luce was born in China where his father was a missionary. He set up Time Life magazine and was an anti-communist supporter of Chiang Kai-shek, the Chinese Nationalist leader…nicknamed Cash My-check because of his greed for donations. Chang didn't completely drain Luce's funds – his foundation still funds many projects around Asia.
We found this information in the 'World Monuments Fund Visitor Center at Preah Khan.' Inside the temple's western entrance, it'd be easy to miss. The small, hut-like building explains the architecture and motifs of Khmer temples. One of the few visitor centres at Angkor Archaeological Park, it received around 10,000 visitors a year pre-covid. Angkor Wat got over two million! One online reviewer hit the nail on the head:
"Why only here? This is the best overview of the entire complex and it's so hidden away!! Angkor is suffering for serious lack of information and gems like this help more than 10 "guides"."
Speaking of guides, I heard many speaking Spanish, two speaking Chinese, and one speaking Italian. We came across many French tourists, so it surprised me not to hear even one Francophone guide. I commented on this to M. For her, the French, even the rich ones, were too tight-arsed to pay for guides. An interesting theory.
Walking out of Preah Khan to where our tuk-tuk driver had parked, we heard several thunderclaps and began to hope for rain – a feeling many Khmer farmers must have had over the centuries. The online forecast promised a downpour. The temperature dropped slightly and a few pathetic drops fell barely dampening the dusty earth. Then the heat resumed. All that thunder for nothing.
Malraux
After leaving Siem Reap, I briefly kicked myself for not visiting Banteay Srei, a temple about 25 kilometres northeast of Angkor Wat. Our driver offered to take us but M was struggling with the heat as I had on the first day – and I was happy not to travel further by tuk-tuk. Author Andrex Malraux stole four devata statues from Banteay Srei in 1923 when it was a forgotten ruin in the jungle. The French Colonial Police arrested him trying to smuggle the statues out of the country. They'd received a tip-off from George Groslier, the founder of the National Museum of Cambodia in Phnom Penh. Malraux wrote a novel based on this experience called the 'La Voie Royale' – 'The Way of Kings.' I ordered a copy from Amazon before our trip. Living in the moment in Siem Reap, I forgot to check which temple Malraux had stolen the statues from. I've already read Malraux's other novels set in Asia: 'Man's Fate' about the crackdown on the communists in 1927 Shanghai and 'The Conquerors' set in 1920s Guangzhou. Man's Fate, while tiring in places, is an existential classic. My copy includes surrealistic illustrations creating an odd link between the nationalists vs. the communists in Shanghai and the French art scene of the same period. As for The Conquerors, I can't remember anything about the plot. I'm somewhat relieved The Way of Kings never arrived in the post because now I don't need to read and review it. I also can forgive myself for not getting to Banteay Srei. I would remember to investigate the footsteps of Malraux in Phnom Penh. Why do I bother with Malraux? Good question. He seems to have been a narcissistic, pathological liar, and high-pitched windbag who, apart from Man's Fate, wrote some decidedly average books.
Van
The next day, we got a minivan to Phnom Penh. Near the van depot, I bought an iced coffee from a woman who didn't know numbers in English. Finally, someone who didn't! Other customers eagerly translated for me. I got the seat at the back of the minivan where my legs could stick out into the aisle. They put M next to the driver and she had the stress of learning that Southeast Asian van drivers are speedfreaks and will pass other vehicles even on corners. However, the road was mercifully straight and flat. The only other foreigner onboard was an introverted French girl with no inclination to talk to anybody. The landscape proved unremarkable. Women trying to wave vehicles down and direct them into roadside eateries provided the only curiosity I can remember. We stopped for breakfast and I ordered noodle soup. The raw pork mince on top worried me – how long did I need to mix it into the boiling soup? At that busy bus terminal, we reflected on our time in Cambodia to that point and I agreed the temples of Angkor had been amazing.
2 Phnom Penh
Museum
Designed by George Groslier, the Frenchman who arranged for André Malraux's arrest, the National Museum of Cambodia in Phnom Penh is an example of traditional Khmer architecture. In essence, Groslier took inspiration from and adapted aspects of Cambodian temples for a practical modern purpose. The red-roofed museum is built around an attractive courtyard with a pond as its centrepiece. When we visited, the courtyard featured slogans about the return of statues from overseas museums, wooden crates marked with New York as the return address, and a number of statues curators hadn't figured out where to put them yet.
As we were looking around the courtyard, a young monk approached me and asked, "What do you think of my culture?" This question reminded me of the Chinese asking, "Do you like China?" in the 2000s. A question suggesting a lack of self-esteem and anxiousness for reassurance. While the Chinese may no longer give a shit what foreigners think, Cambodia is still feeling out its place in the 21st century.
"Yes, very interesting. What do you think are in these boxes?" I pointed to the crates from New York.
"I don't know. Where you come from?"
"New Zealand." He looked blank… "And where do you live?" I asked.
My face went black when he answered… "And how far is that?"
"One hundred kilometres."
"Ah, near."
"No, for me very far"
So, this monk lived in a rural monastery and had come to the big smoke to learn about his country's glorious past. Later, I saw another young monk at the Royal Palace in Phnom Penh poring over a map showing the Khmer Empire at its most extensive. I wondered if, in addition to meditation and other religious instruction, the student monks got a healthy dose of nationalist propaganda so Hun Sen and his mob could have a new nationalistic generation to manipulate. A generation hating the enemy without (usually Thailand) and ignoring internal problems. Well, not Hun Sen, but his son, who has taken over as Cambodian Prime Minister. I found out yesterday, the 4th of September 2023, that Hun Sen handed the reins over to his son, Hun Manet, in late August 2023.
Massage and Cruise
We got several no-frills but skilled massages in Thailand. In the spas of Vietnam, we would have herbal teas, scented vapours and oils, relaxing music, hot towels, and well-trained masseuses. In contrast, the massage we got in Phnom Penh was bad. M couldn't find a place she liked online, so we went to a bar street where we'd walked by a few massage shops earlier. Everything looked worse at night. Scarce streetlights struggled to illuminate the muddy road we had to walk on due to the cluttered and uneven nature of the footpath. The near-empty bars boomed classic rock out of speakers skilled in distortion. The odd sleazy, wrinkly, and intoxicated Western man tottered by. The scene reminded me of a passage in the book Bronze Age Mindset, by Bronze Age Pervert, an alt-right philosopher unconcerned with English grammar.
In this place the government and bureaucracy couldn't extend its rules and cleanup efforts even if it wanted. There are then many nooks and hidden corners that are under no one's control. In this no-man's land there is mafia, so many perverts, there is some crime, but it's kept at mostly very low or nonviolent level because place is full of off-duty cops on the make and no doubt spooks foreign and domestic, and who knows what else. I find life without such refuge to be almost intolerable, so here I felt free but I think was after day in a haze and the glycine was kicking in. I must have taken 600 mg theanine as well, and after much coffee I was spacing out…
M decided a place advertising one-hour massages for three dollars looked OK. The two 'masseuses' were both around twenty and without English. One, tall and skinny, wore a black T-shirt and short denim shorts, the other, short and dumpy, wore pyjamas. They put us in the same room on a double bed with bright blue sheets stained brown in a spot perilously near to where I put my head. The girls had no idea how to do a massage. The girl in the short shorts – yes, I was glad I had the more attractive of the two – rested my hand on her naked thigh and held the back of it lightly on her breast during the massage. She didn't seem to be seriously suggesting extra services as she would have had I been alone. But that's how she did massage and to change things she would have had to make an effort. M cottoned on that the place was a front for sexual activities. I knew all along. She was disgusted, I guess I was mildly disappointed with her disgust. We paid our money and left. The girls smiled and waved goodbye. No damage done.
A more destructive activity for our relationship was the cruise on the Tonle Sap and Mekong Rivers. The walk along the riverfront to get to the boat was a mixed bag. Enjoying the evening, people strolled up and down on the well-lit promenade, creating a nice atmosphere despite the strong smell of sewage. We still hadn't made the boat dock, when the promenade ended and had to continue down the side of the road dodging between the parked SUVs – several without their roadside wing mirrors intact. Finally, we descended a ramp to the boat. The price was five dollars for foreigners and fifty cents for Cambodians. The boat set sail forty minutes after we boarded. To my horror, an older Cambodian gentleman, seated at a keyboard with pre-programmed backing tracks, started strangled-cat Karaoke-style renditions of 70s easy-listening classics. Think The Carpenters, think John Denver. Over the years, I've noticed most Asians don't mind loud, distorted music – but I hate it. M didn't mind either. She'd dressed up, hoping to get some good snapshots against the Phnom Penh skyline – dominated by a massive neon Carlsberg Beer sign…a nice symbol of rampant capitalism. I'd compare it to the Coca-Cola sign in Blade Runner but that's a cliché. With the music, photo taking, and the feeling of being trapped on the boat for who knows how long, I put on my 'I'm bearing this and nothing more' face. M got upset. Why couldn't I enjoy life? Did she have to put up with this for the next thirty years? She had a point. We proceeded to have our worst fight of the trip.
Genocide Tour
Must-do tourist activities in Phnom Penh include Tuol Sleng and the Killing Fields. In Tuol Sleng Prison or S-21, the Khmer Rouge tortured people to get confessions before taking them to meet a violent death at the Killing Fields. Only a handful of the 14,000 – 17,000 imprisoned at Tuol Sleng survived. I think the best approach here is to say how well set up both these facilities are to educate visitors about the horrible realities of the Cambodian Genocide.
Considering Tuol Sleng closed 44 years ago, it's a surprise some of the survivors are there every day, sitting at tables selling books. Our guide introduced us to Chum Mey, a prisoner kept alive because he could fix the typewriter the Khmer Rouge used to keep records of the aforementioned confessions. His book costs ten dollars. Naturally, you feel inclined to buy it and we did so. I can't find this book now and must have lost it at some stage of the trip. Without a doubt, Chum Mey has a story everybody should read but the book does not have rave reviews. Apparently, the translation is bad and the narrative is disjointed. The second survivor you're introduced to, Bou Meng, is an octogenarian and also has a book to sell. Bou Meng survived because he could paint propaganda posters. Being second, I'd guess Bou Meng sells not even a quarter of the books that Chum Mey does. Your shock at meeting a survivor and need to do something, however small, to help cools when presented with a second book to buy. Chum Mey is over 90 and so, being the elder party, I figure he always gets introduced first.
We'd arranged to be picked up from the hotel by a tour bus. On the bus, the guy from the tour company collected money for the entrance tickets and for the guides to show us around Tuol Sleng. At the prison, he divided the twenty people from the bus into groups of three or four and allocated each group a guide. An older Australian lady, joined M and I. M described her as grosera…meaning she had ragged manners… Aussies eh, not the masters of sophisticated discourse and Ps and Qs.
We didn't have much cash on us and in our experience, you couldn't pay for much by card in Cambodia. So, after we'd bought Chum Mey's book, we needed to get more cash before moving onto the Killing Fields. In Siem Reap, I'd got Cambodian Riel from the ATM and M hadn't been pleased, reasoning we should stick to dollars. We didn't want to have any Cambodian cash left on reaching Vietnam. In Cambodia, you can pay in US Dollars and local currency. Cambodian Riel with its large denominations is unwieldy. So, I got two hundred USD out of the machine near the prison: two notes of a hundred, no twenties or fifties were available. I gave a hundred to the guy on the bus to pay for the Killing Fields tickets and audio. He gave me back my eighty-odd dollars in change folded. I checked the number of dollars was correct – but I didn't unfold and look at the individual notes. Big mistake – you'd think I'd have been smarter. I wouldn't normally be hesitant to check for fake notes. Perhaps the solemnity of the tour content affected me. I didn't want to seem disrespectful or untrusting of a Cambodian. Anyway, ripping somebody off fifty bucks is pretty stink, even if they are dumb enough to deserve it. In the context of this genocide tour, I feel guilty about bringing up my little fifty-dollar misfortune. You walk away from Tuol Sleng and the Killing Fields – feeling the weight of the collective guilt of the human race. I guess it's important to feel that way sometimes.
On the bus ride from Tuol Sleng to the Killing Fields, An American man and an English woman, both in their twenties and of Asian heritage, sat in front of us. They'd evidently started talking at the prison. I'd guess the man worked it so they were in the same group. He told her he was a consultant in Dubai.
"You know, I bet you have some friends who work in consulting."
Interesting assumption? Correct, she did. I could almost see her shoulders relax. This guy was OK, a consultant! She had just finished university and was going to Bali to do 200 hours of practice to qualify as a yoga teacher. Here we had the meeting of two well-directed 20-somethings with Asian parents who'd undoubtedly expected a lot.
When she asked him what Dubai was like, I respected his answer.
"I mean cool but also kind of dystopian."
"How?"
"You know all the migrant workers in bad conditions and the locals driving around in Mercedez."
"Oh."
You couldn't accuse him of toxic positivity. On six months' leave, he'd been studying a business course in France in French before arriving in Asia. This impressed her too – her Singaporean Dad had lived in France and struggled to learn French. He'd decided to move to Paris permanently, with the blessing of his New York-based consulting firm. They planned lunch together. A romance began on a genocide sites tour. Amazing.
And what about the fake fifty? It took me a while to discover it was a counterfeit. I tried to use it to buy entry tickets to Wat Phnom. The stern ladies at the ticket booth shook their heads at me. We didn't have any other cash. They showed M an app she could buy the tickets with. It didn't work. To get rid of us they waved us through the gates. A freebie. At a Japanese Ramen place, the nice guy behind the counter explained to me the note was fake when I tried to pay for my order. I looked at the note carefully for the first time. It had 'replica' printed on it! M was furious with me. And we couldn't get ramen because they didn't accept cards.
French Quarter

I stumbled upon the French Quarter of Phnom Penh on our third day there. At a loss for where to go after visiting the main sites, I turned to my old friend, French author André Malraux. What had he got up to in Phnom Penh? The hotel he stayed at while awaiting the result of the case against him for stealing artefacts from Banteay Srei Temple still stands in the crumbling European Quarter. An article, 'Chasing André Malraux's Ghost in Phnom Penh,' gave me all the info I needed about it. The Grand or Manolis Hotel is located at Place de Poste, as is the former French Colonial Police Headquarters. One assumes Malraux saw the inside of the police building several times. Both buildings are dilapidated, virtually crumbling, unlike the Central Post Office, a neo-classical building renovated in 2004. We didn't see any other foreign tourists inside – interesting considering the mileage Saigon gets out of its own colonial post office. Almost every foreign tourist to Saigon goes there to send a postcard home and look at the souvenirs on sale.
I wrote to the author of the article to update him on the French Colonial Police Headquarters – which now had a construction-site style wall around it indicating they might raze it soon. I also said I admired his article. I got no response. This happens all the time – but it surprises me when non-famous blog writers don't respond. I can't imagine they get lots of fan mail and I'd have thought they'd want some engagement with readers about the articles they'd made an effort to put together.
The Police HQ featured in the 2002 movie, City of Ghosts, the tale of an American conman in Cambodia. Many critics slammed Matt Dillion's performance as the lead. For me, it's Sophie, played by Natascha McElhone, that's the problem. Lacking all nuance, she's a saintly white female sent to redeem Matt Dillion's character, Jimmy. This is more the fault of the scriptwriters than the actor herself. Gerard Depardieu plays a guesthouse owner right out of 'Off the Rails in Phnom Penh.' Reviewer Roger Egbert praised Depardieu for a performance in which he headbutts somebody while carrying a baby and trains a monkey to pick pockets. Egbert points out the plot is unbelievable.
Matt Dillion wrote the script with Barry Gifford. I've read one of Gifford's novels that has a plot similar to City of Ghosts. 'Port Tropique' is set in an imaginary Central American country. This full-on banana republic is interesting only because Hemingway once had some drinks there. Gifford's view of Cambodia is the same – its potential lies in its filtered through-American-eyes exoticness. The desperado scammer on the run plot with an exotic setting works better for Gifford in the movie than in the novel. I think City of Ghosts' rating on IMDB of 5.9 out of 10 is harsh. I'd give it 6.5.
Airport
Keen to leave the gritty Phnom Penh, we left for the airport early. Outside our hotel, a tuk-tuk driver said he'd charge us nine dollars for the ride to the airport. We'd researched a fair price as being ten and so accepted his offer. Predictably, we had a ten-dollar note to pay him with and, on reaching our destination, didn't have the heart to ask for the dollar change. So his move of quoting nine dollars instead of ten like other drivers was a smart one.
At the airport, they had Durian-flavoured Dairy Queen Blizzards. Having not seen these elsewhere, I didn't miss the opportunity. It tasted great but left me with bad breath. The bookshop was far superior to what we have in NZ airports. Because of the press censorship in Cambodia, I was surprised to see several books critical of Prime Minister Hun Sen on sale.
While waiting to board our plane to Saigon, things went sideways. In the downstairs boarding area, there were two gates. Passengers waited to board a flight to Saigon or one to Macau. A middle-aged Chinese man sat bent over double making horrific sounds out of the back of his throat – that noise the Chinese make when they want to spit but can't summon any saliva or phlegm. It's like dry retching in reverse. A Cambodian lady sitting behind him alerted airport employees. And quite right, somebody very sick or very drunk shouldn't be allowed on a plane. A young employee in a suit asked the Chinese man to come to the desk in front of the gate. The man stumbled over. With every step, he looked like he would fall. After a brief discussion, the man started yelling at the employee "I can fly." When boarding for the flight to Macau started, he tried to snatch his passport back from the employee. Then he put his hand on the employee's shoulder and shouted "No problem, I can fly." The employee yelled back, "Sir, don't touch me!"
As the other passengers boarded the flight, the employee held off the Chinese drunkard and tried to get help on his walkie-talkie. Eventually, a couple of security guys in fluro vests arrived. They looked at the man's passport and asked him a couple of questions. He was allowed to go through the boarding gate to the bus. Our own flight to Saigon should've started boarding but hadn't. No announcement was given.
Next thing, the Chinese guy had been taken off the bus and was back in the boarding lounge. What had happened? Did he puke on the bus? "I can fly, no problem," he insisted. The guy in the suit got him to sit down. Three police officers arrived and boy did they look disinterested. The drunk, on his feet again, remonstrated with the suit, touching him, making him very uncomfortable. The police officers looked at anything but the scene taking place. The oldest police officer had a terrible cruel expression of complete disinterest. Doing his job here, calming the man down, wasn't worth his while. Maybe he could get the Chinese into a room later and beat a bribe out of him. The Chinese man, in any case, showed no signs of being intimidated. After more "I can fly" he once again got his way and a van arrived (the bus had left) to take him to the plane. He didn't last long in the van. What happened this time? Did he abuse the driver? Did he pee on the seat?
The two security guards and three cops marched him out of the boarding area. Thank God it hadn't been a more serious security threat – considering the utter indecision and lack of action of all but the suit. The Asian dislike of confrontation had led to the issue being dragged out and one drunk had delayed two flights for an hour.