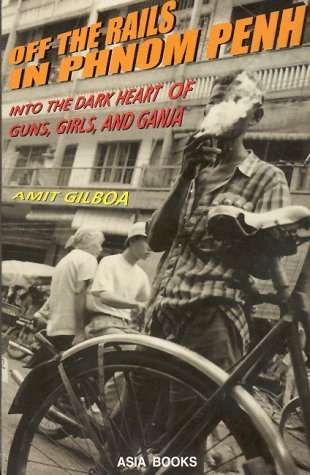 Off the Rails in Phnom Penh: Into the Dark Heart of Guns, Girls, and Ganja by Amit Gilboa

My rating: 3 of 5 stars


Off the Rails in Phnom Penh chronicles the adventures of the expat community in the 90s, in the post-civil war era of anything-goes hedonism. It made quite an impression on me and here I am writing a review twenty years after reading it… Cambodia has come a long way in the 21st century, and I don't expect much of the vibe described in the book to remain. Be forewarned this review doesn't strictly stick to the book.

Having seen what could happen in Thailand out alone at night with too many beers inside, I decided to skip Cambodia in my Indochina travels in 2003. I'd heard of the debaucheries on offer there and they scared me. Now, in 2023, I'm excited to finally visit that country this June.

Instead of Cambodia, I went to Laos to get away from – the unhealthy for me at that stage – Thailand. I'm not against a party lifestyle or P4P sex, but you've got to know how to lead this lifestyle so it squares with your moral limits, and you keep safe and healthy. Hang on, is that possible? Maybe not, and that's part of the attraction.

In the Northernmost province of Laos, Phongsali, I did a three four-day trek staying in Akha and Hmong villages. Although I saw Akha smoking opium, they didn't offer me any.




Their teeth stained by blood-coloured juice freaked me out. I didn't know chewing betels nut with slaked lime caused this. After, I went down to Laos's temple town Luang Prabang and, in a hostel, swapped my copy of Graham Greene's The Quiet American for Amit Gilboa's Off the Rails in Phnom Penh.

I've talked to people who fired machine guns while drunk in Cambodia in the 90s and early 2000s and heard talk of shooting cows with bazookas. Some said they turned green and nearly passed out from ganja pizza (this you can still do I'm guessing). The guns and ganja are in Gilboa's book, but where he aims to shock it with the underage prostitutes available for as little as two dollars. The book is set before the coup in 1997, a time of true off-the-rails hedonism. Hun Sen ousted his co-premier in this coup. Old Hun is still in charge! The resulting violence had a negative effect on the tourist industry and many expats left.

The expats Gilboa hangs out with at a hostel bar (if I remember rightly) are open about visiting prostitutes. Many of them are English teachers, a group whose reputation has taken many hits over the years. Balboa only partakes in one brothel visit, where a girl of less than 18 – who, interestingly, is Vietnamese – gives him a blowjob. Right there Gilboa has admitted something that would get him, by today's standards, struck off the list of the human race in the West…with the liberal left being the first to yell for his lynching. I'm just old enough to remember a time in the 80s when the conservative right shouted the loudest to lynch moral transgressors. Gilboa claims he did it as research for his book. I think he was trying to find his own moral boundary. Once he overstepped, he didn't keep going. These days he looks to be a happy family man in Singapore. He hasn't written another book. He's probably scarred from the negative reaction to Off the Rails. Although he set out to cause a stir, he overestimated his ability to deal with the vitriol.

In much of Asia, prostitution is omnipresent, even if it's illegal. As author Isham Cook has mentioned, it's hard for the Western mind to comprehend the extensiveness of the industry in countries like Thailand and China. Here in NZ, it's legal: our liberal leaders are enlightened…but nobody I know talks about it much. It still feels taboo. For a lot of Western men, their first encounter with a prostitute is in Asia, something they didn't plan and wouldn't have done in their own countries. That's what they say anyway. I'm talking about backpackers or work visa holders rather than intentional sex tourists. Do they then regret it? Hard to say. Guilt around sex is in our programming, the original sin in the founding myth of our culture still holds a huge subconscious sway.

As an example of the prominence of red light activity in Asia, I'd like to discuss Wuhan. Yes, Coronavirusville itself. In 2003 and 2004, I was teaching English there. Compared to other places I'd lived in China – Dalian, Shanghai and Tianjin – Wuhan was a dump. I lived near downtown Hankou and in my city block or xiaoqu there were around twenty brothels, maybe more, I never counted them. Often brothels in China were disguised as hairdressers, but these places were just pink-lit and had women sitting around in relatively sexy clothing – nothing too racy. They weren't brothels as you imagine, but, mostly, what one might describe as handjob parlours. A woman (or two) would lead the client to the second floor featuring a row of beds partitioned off from each other by flimsy plywood or a curtain, and then proceed to administer a rudimentary massage followed by a handjob. The usual Western reaction to this is disgust. But thinking about it – it seems like a safe outlet for male sexuality. These brothels were low class, above them existed a myriad of other options from KTV girls to kept mistresses. In China, there is a large population of floating migrant workers and expats (not all of whom are rich). These groups, if I were to hazard a guess, are 60 per cent male – or were so back then. What's the best way for them to get their rocks off? Well, in any number of ways one might correctly answer or perhaps even better not at all. However, the handjob parlour seems a safeish option. One in which disease doesn't spread (I'm not talking Covid). The women in the Wuhan parlours were usually in their early 20s and from the Hubei countryside and, on occasion, Wenzhou. The coastal city of Wenzhou south of Shanghai seems to provide an inordinately large percentage of China's prostitutes. The handjob gig was a stepping stone to better things in the big city. Maybe twenty per cent of the girls were very attractive. This changed as China became richer and better opportunities came along. Often they had one day off every two weeks, but this was common practice in a lot of jobs at the time. The price in Wuhan was cheap and I can't imagine these women earned much, but in Shanghai, this kind of job could be lucrative.

Back to Off the Rails. A Spanish translation was put out in 2015 and I wrote to the publishers to see if I could get my hands on an e-copy. Since Gilboa has moved on from writing, I thought I'd give the translator some press. My idea was to reread the book – this time in Spanish – before reviewing. The publishers have not responded as of yet. I didn't reread the book before writing this review. A crime for which I tongue and cheek apologise.



View all my reviews